Kona Coffee & Canister Gift Set
Regular price

Sale price

$95.00

Unit price

per
Shipping calculated at checkout
($95) We are proud to offer this stunning Kona coffee gift set, perfect for impressing your friends and loved ones. This set includes a pound of our 100% Kona Coffee paired with a special edition Kona Earth Airscape coffee canister.

The Airscape canister is patented and features a plunger lid that removes and locks out air, preserving your coffee's freshness and flavor. It's also spill-proof and leak-proof, making it the perfect container for your precious Kona coffee beans. The canister is made from BPA-free and Food Safe materials, and we recommend hand washing for best results.
As an add-on to this gift set, the high-quality stainless steel scoop is durable, rust resistant, and easy to clean. The Coffee Scoop holds exactly two tablespoons of coffee, making it easy to measure the perfect amount for your favorite brew. Compatible with our Airscape Coffee Canisters, fitting perfectly inside.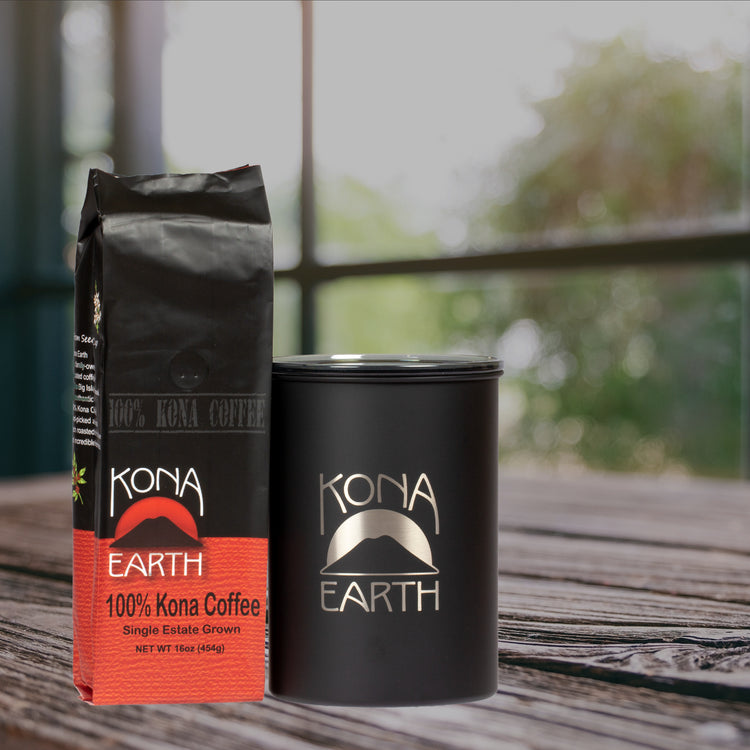 Gift for my brother-in-law
Bought this gift set for my brother-in-law, who is a true coffee connoisseur. Normally he limits himself to one cup in the morning. But he thought this was so good, that he had to have a second cup. Also bought some for myself, and share his opinion. Definitely a 5 star cup of coffee. Ordering and delivery was easy.
Awesome to hear, Kathy. So pleased to know that our Kona Earth gift set was a big hit!
Delicious coffee, wonderful gift set, and great customer service!
No less than a 5-star experience, you won't be disappointed with this gift set. I bought it as a gift for my brother, then promptly changed my mind after it arrived and kept it for myself. The Peaberry coffee is insanely smooth -- no cream, no sugar for me with this coffee! And the storage container is sleek and modern, while keeping the coffee smelling fresh and delicious (Not that the coffee is lasting very long, admittedly. It just tastes too good). I made my order and it shipped the next day, well in time for Christmas. Now I just have to figure out what to get my brother...
"Silky with toasted nuts is a great description for this awesome cuppa joe. I like a medium to fine grind for a nice balanced flavor and this did not disappoint."
- Chris P., Napa, CA
"No bitterness or sour aftertaste -- just smooth and incredibly aromatic. Even with a splash of milk, the full coffee flavor comes through beautifully."
- Suzanne B., Muir Beach, CA
"The medium dark roast is superb. It has a beautifully balanced flavor and acidity. Smooth from the first sip to the last."
- Erin R., Fox Island, WA
"A wonderful morning latte. Smooth, aromatic, tasty and satisfying. A great way to start the day."
- Robert W., San Francisco, CA