Kona Earth Coffee - Chocolate Gift Box
Regular price

Sale price

$38.00

Unit price

per
Shipping calculated at checkout
($38.00) Our Kona chocolate gift box is the perfect way to show your appreciation. Whether you're thanking a hostess or adding something special to your coffee order, this gift will be sure to please. The box includes four of our rich, velvety 75% dark chocolate bars. Made with only the finest ingredients, these bars are a luxurious treat that everyone will love.
Each gourmet bar is poured by hand and scored into bite-sized squares for delicious savoring. Great with coffee or red wine and a fun group tasting experience. 
Ingredients: Cacao nibs, cocoa butter, organic cane sugar.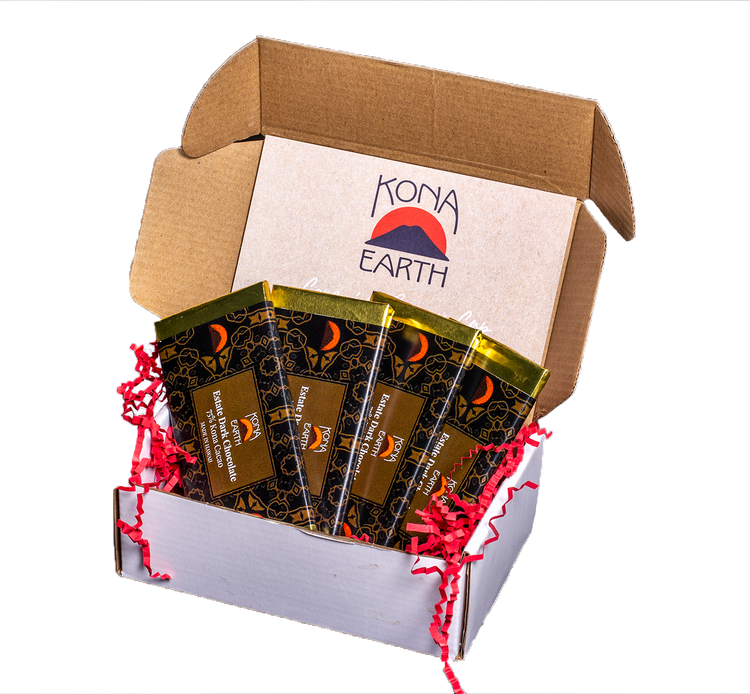 The perfect gift
I shared (a little) of this chocolate with my mom. It is one of her great joys to take a little nibble each day of this "perfect, fruity" dark chocolate. It is a great gift, and since there are 4 bars, you can keep one (or two or three) for yourself! Pay attention to the eating directions because it does make a difference. (e.g., store in fridge, allow it to warm somewhat, let it melt on your tongue) Yum!
That's so great to hear! We're thrilled that you're enjoying our delicious Kona chocolate.
"Silky with toasted nuts is a great description for this awesome cuppa joe. I like a medium to fine grind for a nice balanced flavor and this did not disappoint."
- Chris P., Napa, CA
"No bitterness or sour aftertaste -- just smooth and incredibly aromatic. Even with a splash of milk, the full coffee flavor comes through beautifully."
- Suzanne B., Muir Beach, CA
"The medium dark roast is superb. It has a beautifully balanced flavor and acidity. Smooth from the first sip to the last."
- Erin R., Fox Island, WA
"A wonderful morning latte. Smooth, aromatic, tasty and satisfying. A great way to start the day."
- Robert W., San Francisco, CA